Home
The Sweetheart Tree
Leaflets
Teenie Tweenies
Chart Packs
Teenie Kits
Limited Editions
Biscornus
Quadrielles
The Pyramids
French Alphabet
The Bee Cottage
Charts
Kits
Teenie Tweenies
Charms/Accessories
Out of Print
Retail Shops
Factoids
About Us
Contact Us
About the Company


Sandie & Dave Vanosdall
Photo courtesy of J. Larry Walker


The Sweetheart Tree™ was founded in 1984 by designer Sandra Cox Vanosdall and has produced thousands of designs for cross stitch lovers. Now, well known & respected in the industry, the company provides a complete selection of high quality cross stitch designs to stitchery enthusiasts all across the United States and abroad.

Designs are available in leaflet, kits and card formats and represent a multitude of different styles from whimsical to traditional to contemporary & many designs are traditional samplers designed to blend well with modern decor. Most are worked with traditional cross stitch techniques and have delicate motifs worked in soft pastel colors. Many also have a variety of added stitches with explicit diagrams and clearly written directions to help expand the needle workers repertoire.

The newest arrivals to the product line are our exciting new LIMITED EDITION KITS, CHART PACKS, TEENIE KITS, BISCORNU KITS, QUADRIELLE KITS, THE PYRAMIDS & KNOB KNOCKERS.

LIMITED EDITION KITS have been carefully designed to enhance the decor of your home. Each Limited Edition Kit is decorated with specially selected embellishments which add three dimensional sparkly accents in your needlework. Limited Editions are produced yearly so be sure to check our Website frequently!

TEENIE KITS are sure to please even the most demanding and experienced stitcher. These kits have been designed to bring you a wide variety of the latest trends in needlework. Specialty fibers and embellishments are always included. Teenie Kits are all-inclusive and most are even small enough to fit in your purse! Stitch while at Little League or piano lessons or travel with your project for real enjoyment while away from home.

QUADRIELLE KITS - What are "Quadrielles" you might ask?....Well, they're four-sided decorative hanging ornaments - and - they're simply gorgeous!! Each kit in the series will be "all-inclusive" so everything needed to stitch them (except your stuffing material & tassels) will be included in the kit for you. Finish your Quadrielle simply or choose your own colored streamers to add a decorative poof at the bottom.

BISCORNU KITS - Beginning in 2008 a series of Biscornus were introduced and they quickly became VERY trendy! - wildly popular and just plain cute with their quirky shapes. Many Biscornus in this series were designed to coordinate with one of our decorative scissor fobs but others have holiday theres- Biscornu kits are "all-inclusive kits" so everything (except your stuffing material) will be included in the kit for you.

THE PYRAMIDS are 3-dimensional decorative hanging ornaments shaped like a pyramid - four triangular sides meeting at the peak with a flat bottom. Each side has intricate stitching and is accented with beading.....they're simply gorgeous!! Each kit in the series will be "all-inclusive" so everything needed to stitch them (except your stuffing material and hanger) will be included in the kit for you!

Our KNOB KNOCKERS quickly helped to solve the awful dilemma of what to do when we have run out of wall space to hang our framed needlework! They are the perfect way to showcase your needlework skills while at the same time using them to decorate your home. They're quick to stitch and just plain fun to display! It is easy to change your Knob Knockers to suit virtually any occasion & there's another bonus too....when they're not in use your Knob Knockers can be stored flat in a small amount of drawer space.

The Sweetheart Tree™ has also become very well known for its innovative TEENIE TWEENIE COLLECTION, a series of small cards with colored photos on the covers. The Teenie Tweenies feature high-quality designs which are small, easily portable and reasonably priced. Incorporated within many of these designs are many added stitch techniques with explicit instructions and clearly drawn diagrams all adding a bit of a challenge for the stitcher while not making the project overwhelming. Each design is also enhanced with embellishments which are carefully chosen to blend with both the theme and color scheme of each specific design. Many charms are further embedded with imported colored crystals or natural semi-precious stones such as Turquoise and Red Coral. Since its inception the Teenie Tweenie format has expanded into a wide variety of designs featuring holiday themes & special occasions. As the series continues designs for many special occasions have been included. Have a wedding or an anniversary on the horizon? - or perhaps a graduate to honor or a new arrival to the family? The Sweetheart Tree has the small, high quality Teenie Tweenie design that you're looking for! Watch our Website for timely updates on NEW DESIGNS as we continue to bring you the best and most complete selection of high quality cross stitch designs and embellishments on the market...and, of course "Happy Stitching!" from The Sweetheart Tree™.
About the Designer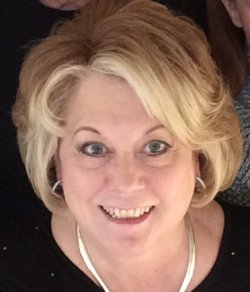 Sandie Vanosdall
By Elizabeth Tittle

Adapted and Reprinted with permission from:
Just Cross Stitch, June 1997
Sandie Vanosdall, founder of The Sweetheart Tree, can trace her love of needlework and designing back to its roots. As a child, her grandmothers planted the seeds for her current career as a designer by introducing her to and teaching her about stitchery, colors, and other aspects of being an artist. "My maternal grandmother taught me the basics of embroidery. She had this wonderful Victorian home, complete with an oversized porch swing where I could sit for hours on summer afternoons and work on stamped tea towels. I remember being very happy and loved in that house," she reminisces. She describes her paternal grandmother, who also had a tremendous influence on her, as "a self-taught artist and a woman before her time." As a young, impressionable girl, Sandie delighted in the time she spent in her grandmother's studio, awed by many colors of paint and all the accoutrements of the trade. "Through her studio window she could also see her tiny fish pond surrounded by bright pink bleeding hearts and other perennials. This is an idea that I sort of adopted from her at our first office where I had a wonderful water garden outside my window where I could escape to feed the fish, watch our resident frog, 'Jeremiah' and enjoy a little of nature's beauty."

Sandie was a young housewife and mother looking for unique ways to personalize and decorate her home. Although she had a degree in Speech and Hearing Therapy and had worked in the field for six years, she decided to be a stay-at-home mom when her son was born. The birth of her daughter took place soon afterward and life became hectic.

"Cross stitch is such a calming hobby. Days seem to race by with lightning speed and countless pressures get piled upon you," Sandie observes. "Cross stitch is something that you can pick up and, almost as soon as you get the needle going, the stress just dissolves."

Sandie took advantage of quiet times when her two youngsters were napping to stitch designs that would enhance her decor. She soon began experimenting and customizing the charts she purchased. Her one-of-a-kind works of needleart attracted the attention of a shopowner where she took them to be framed. "The owners kept asking where these designs had come from. When I explained that I had designed them, they convinced me to sell them through their store. In addition, they introduced me to many influential individuals in our current industry," she explained. "The Sweetheart Tree was the name of my first design and was subsequently chosen as both our company name and our logo."

While it may sound like everything just fell into place, it wasn't that easy. Sandie recalls how she strapped her two children into their car seats, fed them graham crackers to pacify them, and visited needlework shops far and near. This allowed her to get to know shopowners face-to-face and introduce them to her line of designs.

Sandie notes that her designs have changed quite a bit over the years. She shares her observation that the changes that she has experienced over years in her life have certainly had an impact on her work. "I'm not following a trend. I'm just following my heart," she comments. "The progression in my designs reflects what has gone on in my life - the logical progression of a family. My family has always been my number one priority."

She has sketched birth samplers and other nursery pieces, patterns for holidays, family trees, gifts for teachers, and the list continues to grow. "My husband says that we're like the Hallmark store for cross stitchers in that we have a design for almost every occasion-from special occasions like weddings, graduations, and anniversaries to holidays like Christmas, Easter, or Halloween." "My personal favorites are our new "Teenie Kits." There are an ever-growing series of small but elegant designs that are embellished with beautiful Sterling Silver charms or imported crystal embellishments. They have wonderful color pictures on the front covers and they're fun to stitch. They give the stitcher just a bit of challenge, but they don't take forever to complete."

More than thirty years after the company began Sandie is still full of inspiration and ideas for future cross stitch designs. She currently lives in Paradise Valley, AZ with Dave, her husband of 43 years, and resident office "kitty-critter" Muffin. Their two children live nearby.
A Peek Behind the Scenes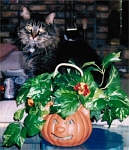 An extremely difficult day for the Vanosdall family arrived on March 28th. Our dear "K.C." left his post as "Senior Design Advisor" and my right-hand office companion. Though my heart was broken we know he is now at peace & in a much better place. His passing will forever tug at our hearts. We love you baby boy and miss you terribly! We were so blessed to be your family. Rest well, "K.C." your job is done.

In time we put out an all points bulletin and began the search for a new little someone to fill "K.C.'s" job. It's our distinct pleasure to introduce you all to our new "Junior Feline Design Assistant. I'll let him take it from here..... Sandie...
Hi folks,
My name's Muffin and I'm the new "Junior Feline Design Assistant" at the Sweetheart Tree. It's a pretty big responsibility to be a "Feline Design Assistant" and a pretty long title for one little Muffin! I know I have some pretty big "paws" to fill! I'll do my best to help Mom make fun designs for you to stitch.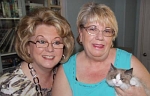 This is a photo of me and my Mom on the day she and Daddy came to take me home to my new house. The lady holding me is who we call "Grandma Sylvia" - she's the nice lady who raised me until Mommy & Daddy came into my life. See how excited Mommy was to get me that day? It was a long ride home that day. Sixty miles! Daddy drove and Mommy held me in my car carrier.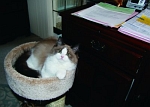 In this picture you can see where I sit and help Mom do her designing. I'm right there next to her chair helping keep the files straight. Sometimes I like to lay down on the files and keep them warm. Maybe that's what Mom means when she says our new designs are "hot off the press" - what do you think?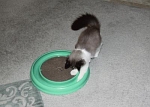 Every now and then I get a play break. It's one of the "perks" of being a "Junior Feline Design Assistant" here at The Sweetheart Tree. Mom doesn't get many play breaks she just works, gives me scritches and lots and lots of kisses!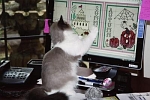 Lots of times Mom let's me pick which design I like best. This is the one I liked best this time....see? I'm pointing right at it! I'm a big helper that way! I like to get right up close to help with all those new designs. I also like to watch the way the "mouse" moves around on the monitor too. Sometimes I even try to catch that silly "mouse" - but that's what you'd expect from a kitty right? Daddy says I'm spoiled but Mom doesn't care she lets me sit right up on the desk and help.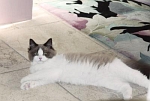 Well another long work day is done so I think it's time to stretch out and take a little catnap. I'll be in touch in a later newsletter to let you know what's going on around the office - & don't worry I'll keep helping Mom with her designing so you can have lots of fun things to stitch.
The Sweetheart Tree™ and The Bee Cottage™
19221 N. Moondance Lane Surprise, AZ 85387
Phone: 480-556-6500 Email: sandievanosdall@gmail.com
Copyright © All Rights Reserved
Help prevent Copyright Abuse! Purchase ONLY from The Sweetheart Tree™ or one of our preferred vendors.